What Your Startup Program Includes
Step by step frameworks you will use to build your business

Group Coaching and Consulting - Some of our client's favourite aspect is our incredible group coaching sessions we put on 2-3 times per week

One-On-One Advisory and Coaching - When you are stuck on something we don't let you stay there long. We give you the direct help you need as quickly as possible.
Enrollment Period Ends Soon!
Don't Delay, Join The Growth Program Today! Gain Immediate Access When You Enroll
00

Days

00

Hours

00

Minutes

00

Seconds
Program Cirriculum
Self paced online tools, resources, and real world lessons at your disposal 24/7
01

Tuesday's at 6pm Eastern Standard Time

Thursday's at 1pm Eastern Standard Time

02

Week 1 -- Foundations & The Startup Journey

Video Lesson - Foundations & The Startup Journey

Tools, Resources and Action Items

Action Item #1 - Dream Life Worksheet

Action Item #2 - Avatar / Persona Exercise

Action Item #3 - Interview / Feedback Sheets

Action Item #4 - Business Model Canvas

03

Week 2 -- Your Minimum Viable Product

Your Minimum Viable Product

Tools, Resources and Action Items

Action Item #1 - Three Prong Target Method

Action Item #2 - Visualizing Your MVP

Action Iteam #3 - Interview / Feedback / Meeting Forms

04

Week 3 -- Building & Pitching Your MVP

Building & Pitching Your MVP

Tools, Resources and Action Items

Action Item #1: Sales Strategy Generator

Action Item #2: Order Form

Action Item #3: Value Stacking Exercise

Action Item #4: Mechanism Prototype Build

05

Week 4 -- Your Business Model & Brand

Your Business Model & Brand

Tools, Resources and Action Items

Action Item #1: Version 2 Business Model Canvas Deep Dive

Action Item #2: Business Plan Guide

Action Item #3: Brand Style Guide

Action Item #4: Sitemap & Funnel Tool

06

Week 5 -- Sales and Marketing

Tools, Resources and Action Items

Action Item #1: Allowable Customer Acquisition Cost

Action Item #2: User Journey Development Method

Action Item #3: Your Sales Playbook

Action Item #4: Your Digital Marketing Checklist

07

Week 5 -- Your Digital Presence - Create Predictable Revenue Online

Day 1 - Digital Strategy & Your Revenue Matrix

Day 2 - Audience, Message, Call-to-action, and Buyer's Journey

Day 3 - Content, Copy and Scientific Advertising

08

Week 6 -- Building Your Organization

Building Your Organization

Tools, Resources and Action Items

Action Item #1: Business Dashboard and Timesheet

Action Item #2: Reporting Calendar

Action Item #3: Calendar Setup and Reminders

09

Week 7 -- Funding Your Startup & Finance

Funding Your Startup & Finance

Tools, Resources and Action Items

Action Item #1: Financial Management Template

10

Week 8 -- Taking Flight, Traction and Growth!

Tools, Resources and Action Items
About The Startup Program
Who The Startup Program Is For:
Companies pre-revenue up to 100k in annual revenue looking to innovate their product/offer, determine thier most effective business model, launch effective sales and marketing campaigns, make your first hires and grow revenue.  
After The Startup Program, You Will Be Able To:
Confidently nail your startup, earn your first $250,000 in revenue or investment and position the company for growth.
Why You Should Enroll In The Startup Program:
-  You want to skip all the hassle of figuring out how to do it yourself
-  You want to feel confident in starting your company
-  You aren't totally sure how to start a company and generate your first 250k in revenue.
- You want to sleep better at night and not worry as much
- You want people to be happier with you and your business
- You want to grow your tribe of like-minded people and meet other companies
- You want to make more money
Why You Wouldn't Take This:
- You are past this point and your company has already generated it's first 250k in revenue or investment.  In that case you would be eligible for the 

Growth Program


- You are not involved in a startup
-  You are looking for a get rich quick scheme
-  You aren't willing to put in the work to achieve some big things
Our Strategies Have Landed Clients Such As
Our CEO's Brands Have Served Organizations Such As...
Brands Josh Has Worked With
Josh has Built, Consulted, Served and Partnered With Impressive Brands Such As...
We Understand Small Business Owners
People Say The Nicest Things!
"I've had the good fortune to work with Josh on a number of occasions. His business acumen, integrity, work ethic and intellect make him someone you not only respect, but someone to model. I look forward to working with Josh again on future projects."
"This is the place for those who are already committed and ready to scale the business to multi-million dollar company. Josh will help you break down your systems, simplify every single procedure and provide you with 100% clarity and steps on what you wish to accomplish. Listen to him carefully because you are about to see significant changes in your business."
"Joshua is an amazing speaker. I was lucky to experience his Sales Workshop at The Forge Incubator Speaker Series. It was my favourite presentation from the last three months of leading weekly entrepreneurship workshops. Thank you so much to Joshua for coming out to McMaster Innovation Park and inspiring our startup teams."
"Josh is a natural entrepreneur. He espouses customer-centric thinking and always puts his customers first. Josh has repeatedly demonstrated his leadership capabilities, managing a growing business and team nationally. While Josh is decisive and swift to act, he also knows how to listen and reach out to experienced advisers and mentors. "
"I had the privilege of working for Joshua for a number of years. When it comes to management, Joshua is a rare breed. He is bright and persuasive, but he is also a class act both personally and professionally. He fully gets behind what he believes in, but won't push something if he knows it's not in someone's best interest. His work ethic, interpersonal communication skills and ability to lead are outstanding. Joshua is extremely enthusiastic about his work which is infectious, makes it fun to learn, and easy to remember. He always has a creative, positive outlook and he's good at organizing and bringing people together. Joshua is a dedicated, ambitious and natural leader. I consider myself very fortunate to have had the opportunity to work with and learn from him."
"Joshua is an incredible kind of person. I had the pleasure of learning sales and interpersonal communication skills from Josh during my time in a direct sales industry. His ability to find that perfect way to get through to each and every person he deals with is second to none and his customer service was always superb. I can easily credit a lot of my success to the skills I learned from Josh and I know that he is be a true titan of any industry he should set his sights on."
"I owe a lot to Josh as he is the main reason I found my passion in Sales. When I first got started in sales I did not know the first thing and had a negative outlook on what a Sales Person was. Working with Josh that quickly changed as he taught me the fundamentals in order to succeed in any sales industry. Josh is a great Mentor, Leader, and successful in everything he does!"
"Joshua has that special ability to lead, motivate, and build productive team culture all at once. More importantly perhaps, he is a high character person that cares about others. He's the type of guy you can trust and rely on when he gives you his word. In addition to these positive qualities, anyone that has worked for him will tell you how contagious his entrepreneurial drive is. Working for Josh the years I did is an experience I will always value!"
Pricing options
Apply or book a call to see if you are eligible for any scholarships
Joshua's Journey
See the story behind your coach
The Beginning 
I started in sales at the young age of 16 all because I finally got a girlfriend and I wanted to buy her something nice for her birthday!  Little did I know that would lead me to a cash cow of a skill set that would serve me for years to come and allow me to start and grow multiple million-dollar companies.  
It all started with a door to door sales job selling lawn services and driveway sealing.  This is where I learned how to:
Develop advanced sales scripts
How to talk to anyone
Overcome objections and stall tactics
The numbers behind a great sales strategy
How to win by creating relationships.  
The list goes on...
After quickly rising to the top and becoming a top 1% performer I then started an 80 person sales company and trained 1000's of staff over the years.  There's me with my team ->  
Our team was FULL of energy, pumped up and high performing... and doing DOOR-TO-DOOR sales!
I grew that company so fast though that it got really hard to manage with the little management experience I had.  That's when I decided it was time to invest in my management and leadership skills.  I set a goal of taking 1-2 professional courses per year, attending at least 2 events/seminars per year and reading 20-50 books per year on sales, marketing, business, psychology, leadership, management, finance and more.  That was one of the best decisions I've ever made.
Selling My First Company And Moving to Vancouver
By the time I was 24 I had been running that business for eight years and I wanted a new challenge so I sold my first company to Canadian Property Stars, run by a great mentor of mine Ben Stewart.  I took up the role of National Sales Director and moved to Vancouver B.C to run their location there.  
When I got to B.C I had to fit into a new area, build a management team and then build a sales team.  But that view though...
I got my management team going and we packed rooms with students and people hungry to make money and I gave them everything I had for training...and make money they did!
In the first 9 months we got 40% growth from a stagnant location that had been declining for years.  I also created 40+ high-level alumni salespeople while I was there who travelled on road trips to serve new areas and many of them still remain with the company or in a high-level sales role to this day.
50 Waterguns = Increased Sales
Aside from constantly delivering value, I did whatever I could to get staff motivated and HAPPY and that included things like going to Walmart and buying 50+ water guns and sending staff a picture that I'm coming to get them! 
Running around mountains all day gets you in pretty good shape so one time I told the team if they hit their fitness AND sales goals for the month I would bring in my model friends for whoever wanted pics.  I would pull anything out to motivate my staff! lol.  Not everyone hit their fitness goals but you should have seen where some of them started! 
Look how happy Orlando was! 
It never ceased to amaze me the power of happiness and fun to increase performance and retention!
Then I Started My Second Business
Enter, my second company; GoWrench Auto.  "The Uber of Mechanics" 
I had this idea kicking around that going to a mechanic shop was inconvenient and lacked trust and transparency.  On top of that, I had previously had a disagreement with my mechanic at the time who took care of my 10 vehicles for my company.  So I decided to do something about it.  I started it up and apparently people liked it.  I started using those sales skills to get picked up by the press.  I remember the first time we got put in the newspaper, my first radio interview, first news feature and of course published online.  
There were even magazines getting creative and recreating movie covers ->
It was all amazing to kick start a business and get a little traction but we were going to need more knowledge and funding so I set my eyes on business accelerators next!
Knowledge Is Power
Our journey started at Innovation Factory and The Forge Acclerator, McMaster University's Campus Linked Accelerator (CLA)
I even brought my dog to work a few times ;)
We started getting mentoring and then pitching to investors and in countless pitch contests.  One led us to pitch on live TV and later present in front of 500+ people.
We even won a few good ones too like this $40,000 award (that I totally wasn't expecting)!
I had always wanted to meet a Dragon from Dragon's Den so when I heard that David Chilton "The Wealthy Barber" would be speaking live at a venue near me I had to go.  
After the event, he was signing books and I knew I had a small window of opportunity to grab his attention and interest.  I walked up to him and said: "Hi David I'm a big fan, can I pitch you my business in under 9 seconds?" (Permission marketing works) He said, "It better be 9 seconds".  To which I responded "GoWrench Auto is the Uber of Mechanics, bringing auto repairs and more right to your door.  Hundreds of customers and raving reviews so far and all I want is your email or number to get your advice... oh and we want a photo!  He laughed thought for a second and then gave me his contact info before posing for this photo. 
(He preferred to be in between the girls instead of us guys and I don't blame him lol)  We would go on to have many "I can only talk for five minute" meetings that turned into 45-60 minutes and some incredibly valuable advice.  That is the true definition of why a good elevator pitch is so important.
We finally got our investors on board and raised $500,000 to grow the business.  Here's the team receiving one of the first cheques...
We really started picking up steam and got accepted into the DMZ Playbook Program, one of Ryerson University's top accelerator programs and it blew my mind.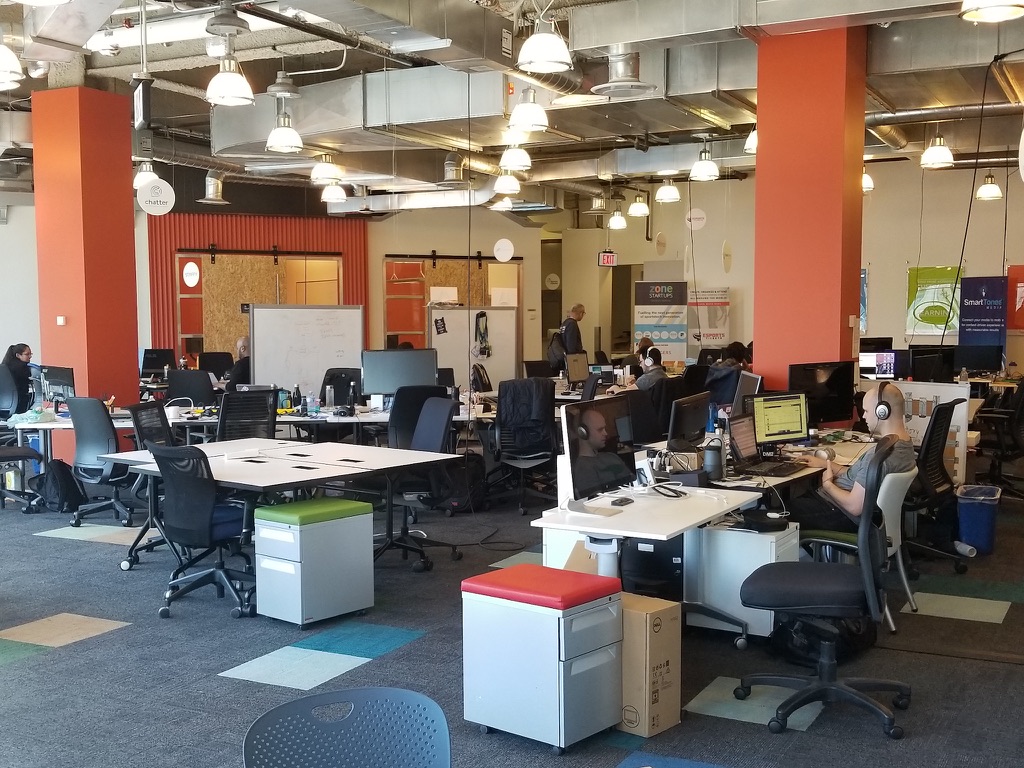 Once we started getting more and more traction I kept getting asked to help other entrepreneurs, startups and speak at events.  They started small and continue to get bigger and bigger.
Now, aside from running GoWrench I had to figure out a way to help as many entrepreneurs and business owners as possible which is why I founded GoLearn.io, my third company. 
GoLearn is an Online Academy, Event Series, and The GoLearn Institute is tackling some of the most pressing issues in our world today.  Our primary focus is to tackle the Climate Crisis, however recent events with Covid-19 have us focusing on helping businesses adapt to the changing economic conditions. 
So, with that said, I am here to help.  Let's get going!